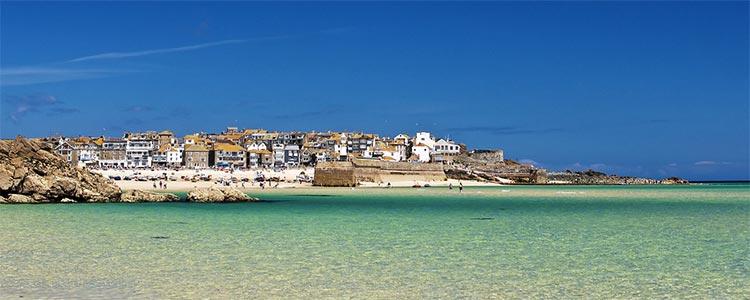 If you're choosing Cornwall for your caravan holiday there's lots to do in the local area. Cornwall is steeped with Arthurian legends and is edged by some of the most beautiful coastline in the world, but if you want fun and entertainment too, the area if full of days out and amenities.
The Eden Project
The Eden Project is by far the jewel in Cornwall's crown offering memorable days out and the discovery of a whole new world. The project is billed as a bio-dome housing several climates and plants from around the world, including its very own rainforest, but it's so much more than that. There's educational workshops, events for children, tours and sessions and plenty of eateries and facilities in the project too.
The Eden Project is open all year, bar 24th and 25th December, so whenever you plan your Cornish Holiday, this is an option for a day out. The project is set inland, near St Austell in South Cornwall, making it accessible from pretty much every holiday park in the area. www.edenproject.com
Flambards
In South Cornwall at Helston, inland from the Lizard Peninsula is Flambards, a theme park perfect for those who want to explore a little local heritage and have some fun along the way.
At Flambards you get the full experience with undercover museums and exhibitions displaying times gone by, a Victorian Village, Britain in the Blitz and more, while to ensure the kids are entertained there there's the thrill of rides, a science section, indoor play and rides for little ones too.
Flambards is only open during main season, usually from the first week of April to the first week of November each year. Full details, exhibition times and a full list of rides can be found on their website. www.flambards.co.uk
Land's End
I would seem a shame to go all the way to Cornwall and not go to its very edge. There's something very magical about standing on the very last piece of land in mainland UK looking out onto the crashing waves and the town really has gone all out to ensure its most famous feature is captured.
The coastland at Land's End is sweeping and rugged and a must for ramblers or those just looking for a scenic stroll. Take your picture by the famous sign post and Land's End's most photographed attraction or stock up on Scrumpy Jack in one of the specialist shops.
The Land's End Visitors Centre is a must for anyone visiting this landmark town where you can find out the history of the local area, learn all about pirates, and enjoy all the facilities on offer. www.landsend-landmark.co.uk
Newquay Zoo
From hungry lions to slithery snakes, there are over 130 species to see at New Quay Zoo and it's a must visit day out for those visiting the Cornwall area. Situated just a short walk from Newquay town centre, the Zoo is one of the area's most popular tourist attractions and with an action packed day out on offer, it's easy to see why.
The zoo holds the only lions in Cornwall, but there's plenty more to see too. Animal Houses and Exhibits are always available when the park is open, and with listed feeding times, a Tarzan Trail and Dragon Maze ensure there's plenty for the children to do.
Newquay Zoo is open every day except for Christmas Day, and that gives visitors the chance to see the animal behaviour at any time of the year. This makes it the perfect place to visit, no matter what time of year you are planning your holiday for. The park opens at 10am every day, but you can check all the details on the full website. www.newquayzoo.org.uk
Tintagel Castle
Cornwall is a magical place, steeped in history, Arthurian legend and mystery, and if that's why you're planning your holiday here then Tintagel Castle is a must visit attraction. This very ruin is said to be the castle in which King Uther Pendragon met the alluring Igraine and conceived Arthur himself.
Set in North Cornwall in the coastal town of Tintagel the castle is easily accessible for anyone staying in the Cornwall area for a holiday. There's a café and picnic area, and a shop too, so you have everything you need for a perfect day out exploring, and learning more about the local area.
Opening times vary at the castle, and as Tintagel is also set on the coast, access to the beach can be limited, weather dependent. The website is updated regularly so you can plan a visit around your holiday here. www.english-heritage.org.uk
Fistral Beach
If you're looking for sun, surf, watersports and fun then no visit to Cornwall would be complete without a visit to Fistral Beach in Newquay. Probably the most famous beach in Britain, Fistral is beautiful, if a little busy during high season, and it really is a surfers' paradise!
The landscape is stunning, the beach is in the town so there are plenty of facilities, while on the beach you can sign up for some surf tuition, rent some body boards and do as the locals do and surf at Fistral Beach! www.fistralbeach.co.uk