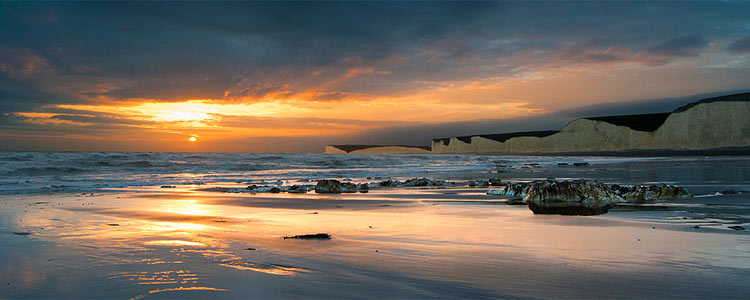 If you fancy getting away from your caravan park and want to know what there is to see and do in Sussex the list below offers some ideas of places to visit on your holiday.
Royal Pavilion
The Royal Pavilion in Brighton really is an architectural gem, the like of which cannot be matched for its uniqueness. It is probably one of the few buildings of architectural interest that will also capture the kids' imagination as they will not have seen anything like it.
The style is a mix of Hindu and other influences. Built in the 18th century it still remains in great condition. Adults will probably find the opulence of the interior just as interesting, there are many Chinese artefacts that were collected over the years, as well as French furniture.
The pavilion is not really a full day out, however it is just down the road from the pier, and plenty of other distractions, so it's a great place to start an entertaining and interesting day out. http://www.brighton-hove-rpml.org.uk
Drusillas Park
Ranked as one of Sussex's top ten attractions, Drusilla's Park is a full day out for the kids. It's a zoo with a small 'z' but is one of Europe's best small zoos. It's more of a cute and cuddly than a red in tooth and claw experience. There's otters, Lemurland, flamingos, penguins and llamas, plenty of harmless and exotic animals, but nothing to scare the little ones.
But, it's more than a zoo, there's a Thomas The Tank Engine rail track, and Hello Kitty Secret garden as well as plenty of slides and other attractions. It really is a day out for the kids, not the adults, but, you've got to keep them happy on holiday!
There is also kid's entertainment at the park, ring for details of what is coming up during your visit to Sussex, the number can be found on the website. www.drusillas.co.uk
Royal Hippodrome Theatre
The Royal Hippodrome Theatre in Eastbourne is a marvellously decorated old theatre that has been well maintained, and is manned by volunteers. There's something for the whole family, but a babysitter may be the best option for an evening show, check with your caravan park as some do offer this service.
Henrietta Hippo's Fun-house is on every 1st Saturday of the month, as well as many other child friendly shows. For adults there are regular comedians as well as musical events.
Aside from the joys of theatre it's a good way to introduce children to the notion of community projects and the concept of volunteering to support a good cause. The theatre is also one of the most haunted in Britain, and they run ghost hunting packages, although you would need to arrange a large group of visitors to cover the cost. More details on the website. www.royalhippodrome.com
East Sussex Falconry
East Sussex Falconry is located in the grounds of Herstmonceux castle, so there's two for the price of one already as you can wander around the picturesque castle grounds.
The falconry literally gives you a hands on experience, as you get to put the glove on and have one of these amazing creatures perch on your hand. They have several species of raptors, both indigenous, and from other parts of the world.
You could combine a visit with a birthday treat and arrange one of their more exclusive tours and falconry experiences, see the website for prices and booking details. www.eastsussexfalconry.co.uk