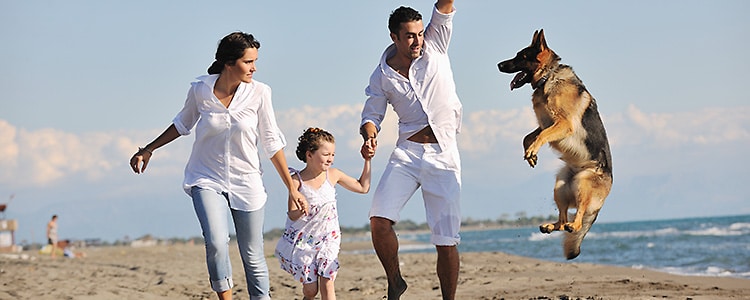 What many non pet owners fail to grasp is that the pooch is one of the family, and a holiday without Fido is not really a proper holiday. Some holiday parks don't allow pets, but Hoseasons are going a step further than letting you bring your furry friend along, they are waiving the extra charge for September and October 2015.
Not all of Hoseasons breaks allow pets, however, with 81 pet friendly locations to choose from there is bound to be something suitable to make the move into autumn that bit more bearable. The end of summer is always a bit painful, but an extra break before the nights close in is well worth taking some time off, especially as prices drop as soon as the kids go back to school.
Hoseasons are great because they don't only offer holiday parks, but a whole array of different holiday types, everything from boat holidays to villas to lodges, and if you fancy the latest 'must do' holiday, a break with a personal hot tub, then Hoseasons have plenty of dog friendly ones on their books.
There are as noted 81 pet friendly locations, but lets have a look at an example of what they have on offer. But, if you're in a hurry to book you can see the full list here.
Aberdunant Country Park in Porthmadog has breaks starting at £129 for 3 nights for the whole family. The park gets an overall rating of 8.8 out of 10 from 110 reviews on independent website Reevoo which is quite impressive, and it's easy to see why. The park is ideally situated in 200 acres of woodland, and although it's not right on the beach, lovely Porthmadoc beach is only a few miles away in the car.
And, the park is also a short drive away from Snowdonia, and there are plenty of nearby walks available for proper ramblers, and those wanting to tire the kids out. The park itself is has facilities, but it is not a 'redcoat experience'. This is a proper healthy getaway for holidaymakers who want to either properly relax in a gorgeous countryside environment, or get out and about and make the most of what this stunning part of Wales has to offer. And, you get to take your pooch. Not all beaches are dog friendly in the high season, so before you go, get your map out, and then get on your iPad to find out exact dates the beaches become open to dogs. More info.
As noted, there are many dog friendly holidays available with no extra charge, see the full list here. Happy hols folks!
See our pet friendly holiday page here.
By: Gareth Whieldon