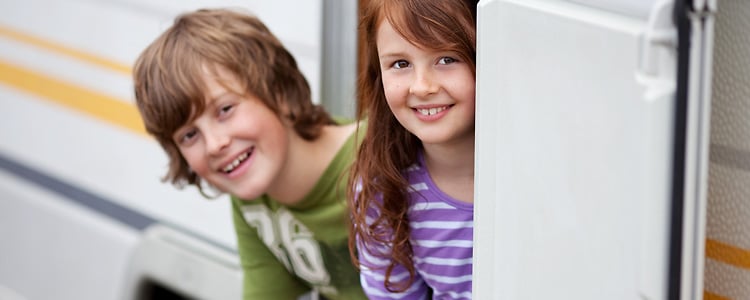 Are our children less happy than we were? Research from the Camping and Caravanning Club suggests that they might be. That's bad news. The good news is that there's a quick and easy remedy: get outdoors! And what better way to do that than with a caravan or park holiday?
The survey was carried out as part of the Get Kids Outdoors with Camping campaign. It asked parents and grandparents if they thought their kids and grandkids were as happy as they were at the same age.
Around a half of the older generations reckoned the youngsters weren't as happy. A third said that they had been "much happier".
There was near unanimity of the reason why kids might not be so happy with 96 per cent of respondents saying they spent more time outdoors than youngsters do today. And 88 per cent of the surveyed elders said more outdoor time would make kids happier. But half said their own kids don't get enough time outdoors, with 60 per cent saying they spend more time inside than out.
And the older generation thought the way that children were spending their time was having a negative effect, with 72 per cent pointing the finger at social media and online gaming as bad influences on engagement and real life interaction for children.
The experts agree, with Javed Khan, chief executive of Barnado's, saying: "Being active and having quality family time are two things that help children and young people thrive. Getting out and about together on an exciting camping adventure or for a walk to the local park is positive mentally and physically."
This sort of thing sounds like simple common sense. And the survey respondents – 86 per cent of them – agree that spending more outdoor time would be good for kids' fitness. But knowing something and doing it are two different things, and research suggests that just over one-fifth of kids regularly play outside.
One easy, cheap way to get children out into the great outdoors is by camping or caravanning. Wi-Fi and mobile internet means it's hard to completely escape online distractions, but a camping, caravanning or park holiday at least gets kids into the right environment.
Julia Bradbury, the Camping and Caravanning Club president, got right behind the campaign. She said: "There's no question our kids are missing out; apparently the likelihood of a child visiting any green space has halved in a generation. Children are becoming disconnected from the natural environment and that is having a detrimental effect on their development. Outdoor adventures help with physical development and build emotional resilience. Get them off the screens and get them outdoors!"
This is potentially serious and life-changing stuff. Alongside this report, other research shows British children are far from the happiest in the world, coming 14th out of 15 countries in a recent study that included countries in Africa that are far poorer than the UK.
Caravan and park holidays continue to grow in popularity as British holiday makers rediscover and fall in love with the UK all over again. The easy access to the joys of outdoor living is just one more reason why a caravan is the short-cut to holiday happiness.