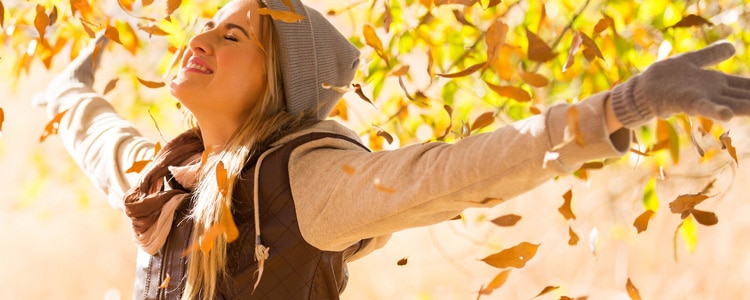 We lose a bit of heat as autumn arrives. But it's a season that's alive with colour as the leaves blaze in many shades before dropping.
This autumn get out and enjoy the Forestry Commission's top-10 selection of autumn colour spots. Caravanners love the great outdoors, and these seasonal beauty spots are guaranteed to bring some colour to your autumn break.
1 – Symond's Yat, the Forest of Dean
This historic beauty spot is said to be the place where the word "picturesque" was invented, and it still lives up to the praise heaped on it by 19th-century pioneers of travel. High up on cliffs over the spectacular Wye Valley, beech and oak leaves turn gold. The Forestry Commission's walk also takes in secret waterfalls and a hand-pulled ferry trip.
Caravan parks in Somerset are a short drive from the Forest of Dean.
2 – Carron Crag Trail, Grizedale
Best known for the waters that give the area its name, the Lake District is also home to the stunning Grizedale Forest. To get the best of the best of the forest's autumn colours head up Carron Crag. At 314m it's not too much of a stretch, and there are a variety of ways up, to views that take in a stunning, autumn-hued panorama.
The Lake District is a wonderful caravan and park home holiday destination.
3 – Silk Wood Trail, Westonbirt Arboretum
The trees at Westonbirt were chosen to look good. And the people who selected the 15,000 specimens of the world's best arboriculture did a bang-up job. The Silk Wood trail is one of many beautiful trails through the collection, and the best way to see the arboretum's autumn highlight, vivid, vibrant Japanese maples.
Parks in South Wales are  just over the Severn Bridge from Westonbirt in Gloucestershire.
4 – Blakemere Trail, Delamere Forest
On the gentle farming land of the Cheshire Plain, the Delamere Forest is home to sweet chestnuts and silver birches, oaks and beeches that turn with the season as swathes of larch provide a beautifully warm backdrop.
To the north of Delamere are the caravan parks of the great Lancashire seaside resorts.
5 – Seasonal Trail, Bedgebury
Bedgebury is home to the National Conifer Collection, which famously keep their leaves and needles. These evergreens though do produce colours as the rich, dark colours of their berries shine out to attract birds and animals. Some do change colour too, with golden larch deepening their colour, and dawn redwoods and swamp cypress offering a palate of reds and browns.
Bedgebury is in Kent, close to many south coast caravan parks.
6 – Bedburn Valley, Hamsterley
Hamsterley, in County Durham, offers all the most loved attractions of a classic British woodland. With 2,000 hectares to explore, it's a popular walking and cycling destination for the whole North-East, and the most popular native deciduous trees will be doing their spectacular thing as they have done for millions of years this autumn.
Take in Hamsterley on your way to or from the Northumberland Coast caravan parks.
7 – Church Path Trail, Salcey
Forests have to reach quite tough technical criteria to be designated ancient woodland, and Salcey, in the very heart of England, is an excellent example. With traditional native species like oak, ash and hazel forming the bulk of the forest cover, it's worth climbing a little to take in the views from Tree Top Way.
The parks of the Lincolnshire coast are the closest to Salcey.
8 – Giants Trail, Wyre Forest
There's more ancient woodland in Wyre Forest. There's also a curated arboretum collecting some fantastic specimen trees together. Perhaps most impressive are some majestic oaks with hundreds of years of history behind them.
The Wyre Forest in Worcestershire is within reach of caravan parks in Somerset.
9 – Habitat Trail, Alice Holt
A relatively young place in forestry terms, Alice Holt arboretum, near Aldershot, was set up in the 1950s. It's aged beautifully though, and native oaks, beeches and rowans provide an autumn show that's typically British.
Hampshire is one of the busiest caravan and park home areas in the country.
10 – Tall Trees Trail, New Forest
Anywhere in the New Forest, one of the UK's woodland gems for over 1,000 years, will give you something to see this autumn. The Tall Trees Trail focuses both on giant conifer specimens, and classic broadleaf trees that provide the colour on an easy woodland stroll.
The New Forest is full of high-quality caravan parks.
Visit the Forestry Commission's site for full walk itineraries for all these trails.