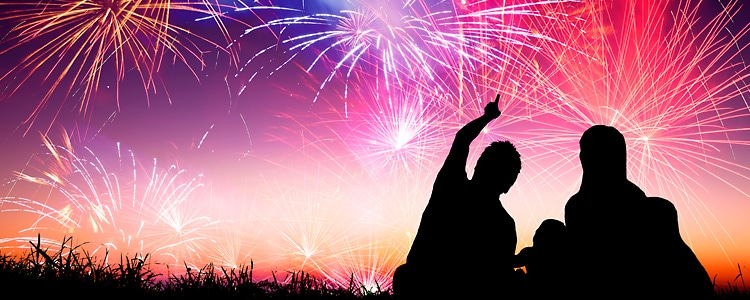 Remember remember… yes, it's that time of year again, and in 2016, November 5th falls on a Saturday, giving it even more explosive potential. Around the country cities, towns and villages will be getting together to blow up and burn stuff in honour of the memory of the 1605 Gunpowder Plot, an attempt to explode the Houses of Parliament with the whole royal family inside.
A bonfire is a great night out for caravan holiday makers. Along with the show in the sky there'll usually be lots of extras, and traditional warming foods from popcorn to toffee apples or big barbecues.
Every year official advice recommends a big organised display as the safest way to enjoy Bonfire Night with your family. These 10 displays aren't just safe though, they're truly spectacular.
1 – Liverpool
Teaming up with their neighbours on the Wirral, Liverpudlians will be oohing and aahing at a huge waterfront show along the world-famous Mersey riverfront. With explosives going off from the centre of the river as well as along the banks and lots of entertainment on the side this just might be Britain's biggest bang this November 5th.
Liverpool's an easy day trip from the parks around the big resorts of the Lancashire coast.
2 – Lewes, Sussex
For an historic perspective on November 5th head to Lewes, where this pretty small town lays claim to the world's biggest bonfire night spectacle. There's a political edge to the Lewes celebrations with a giant effigy of a current bogeyman put to the torch in the place of Guy Fawkes. This is a major league street party, starting at 5pm and finishing in the early hours.
Top quality beaches make Sussex natural caravan park country.
3 – Leeds Castle, Kent
As backdrops go, Leeds Castle in Kent must be one of the best. One day isn't enough for all the fun that's put on at this huge themed annual show. The November 5th events are already sold out, so hurry up if you do want to enjoy some of this explosive weekend.
In the central county, Leeds Castle is within easy reach of caravan parks on all of the Kent coasts.
4 – Alexandra Palace, London
Alexandra Palace has been all sorts of things in its day: the world's first TV studios, a pleasure palace, an iconic gig venue. And a lot of its appeal in these guises has rested on one thing: this is the highest point in Greater London. So if you fancy a freebie find yourself a vantage point somewhere nearby. If you want to enjoy the extras, like trendy food and beers for adults and lots of kids' fun then stump up and arrive early for the 3pm opening.
Essex caravan parks are a good place from which to access Alexandra Palace in North-East London.
5 – Cardiff
They call the Welsh capital's show The Sparks in the Park, and it's the biggest in Wales. Run by the local Rotary Club rather than the council, all proceeds raised go to charity. Last year's event was such a big success that they've gone ticket only this year.
South Wales best caravan parks are to be found around resorts like Porthcawl, just down the M4 from Cardiff.
6 – Windsor
It's LEGOLAND rather than Her Majesty's modest little home that is the big attraction for Windsor's firework fans. The special effects wizards at the big theme park will be doing their best – and the show isn't cheap – to really put on a fantastic show inspired by the Lego NEXO Knights.
The caravan parks of West Sussex of Hampshire are the best way for park holiday fans to get close to Windsor.
7 – Blists Hill, Shropshire
The sparks that once flew around this historic Shropshire attraction were the first embers of the industrial revolution at Coalbrookdale. Blists Hill is the Victorian town attached to a family of museums around Ironbridge Gorge and it's a great setting for a traditional Victorian bonfire night around the village green.
The caravan parks of North Wales have good access to Shropshire for drivers.